Rating:
4.2

based on

38

votes
Rate it:
Lake Clock Screensaver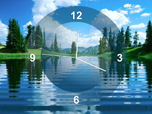 Enjoy new free clock screensaver! You will find great nature scenery with realistic animated water effects. Nature sounds are also included in this screensaver. Transparent animated analog clock is located at the center of the scene. Different settings and animated preview will surely impress you! Download clock screensaver absolutely free.
Features
Smooth and realistic animation of water
Transparent analog clock
Different settings
Compatible with any Windows operating system
Works on any screen resolution
Absolutely free clock screensaver!
System Requirements
500 MHz processor
32 Mb Video Memory
10 Mb of free hdd space
Windows 95/XP/Vista/7/8/10
Testimonials
"It is very charming screensaver. I like it!" Kelly
"What a wonderful clock :) Nice scene!" Sarah
"Thank you for your work, wish you a lot of users." Mike
"Great free clock screensaver, please make more screensavers!" Sam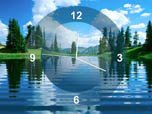 Click to enlarge screenshot
Lake Clock Video (Click video to play)
File size: 56.86 Mb
Top Screensavers
More free Screensavers
Recommended Screensavers
Screensavers Categories. Browse and Download Free Screensavers