Rating:
4.5

based on

70

votes
Rate it:
Aquatic Clock Screensaver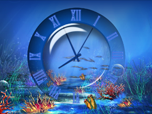 Our new underwater clock screensaver is a wonderful journey into the mysterious world of the oceans. There are a lot of screensavers with aquatic theme, but our screensaver is absolutely new product. Here you will move like a submarine at high speed through the water. On your way you will meet various sea creatures, swims past schools of fish, coral... Aquatic clock screensaver is very exciting! Download it now for free!
Features
Special effects screensaver
Underwater clock animation
Compatible with any Windows operating system
Works on any screen resolution
Absolutely free clock screensaver!
System Requirements
1 GHz processor
64 Mb video memory
35 Mb of free hdd space
Windows 95/XP/Vista/7/8/10
Testimonials
"I like clock screensavers, thank you for your new free clock screensavers." May
"My kids and i like happy clock screensaver, great job!" Jennifer
"Nice screensaver and great clock for my computer." Andrew
"Wish you more users to join your site." Mary N.
Aquatic Clock
Screenshots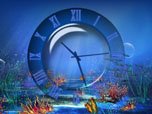 Click to enlarge screenshot
Aquatic Clock Video (Click video to play)
File size: 68.1 Mb
Top Screensavers
More free Screensavers
Recommended Screensavers
Screensavers Categories. Browse and Download Free Screensavers