Rating:
4.5

based on

42

votes
Rate it:
Waterfalls Screensaver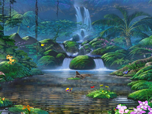 Another nature screensaver, bringing a real waterfall in the screen. Turn your monitor into a waterfall by using this screensaver. The splendid waterfalls mesmerize your eyes and calm your spirit giving you joy and relaxation. Enjoy the most famous waterfalls right on your desktop!
Features
Install/Uninstall support
Windows 95/98/NT/2000/XP/VISTA compatible
More than ten waterfalls images
Natural scenery
Make yourself and your children happy!
System Requirements
1 GHz processor
64 Mb video memory
10 Mb of free hdd space
Windows 95/ME/2000/XP/2003/Vista/7/8
Testimonials
"Wonderful screensaver, pleasant pictures!" V.
"My kids like this screensaver very much, download and enjoy it with whole family!" Shimoyama
"Excellent Screen saver!!!" Peter P.
"Great product. Very good quality." Fernando
"Good job, thank you!" Bob
"One of my favourite screensaver type! Mountains, nature, water!" Eugene
"Wish you success in creating new great products." Oleg
Click to enlarge screenshot
File size: 4.49 Mb
Top Screensavers
More free Screensavers
Recommended Screensavers
Screensavers Categories. Browse and Download Free Screensavers