Rating:
4.4

based on

40

votes
Rate it:
Autumn Life Screensaver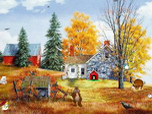 The screensaver is fully configurable. You can play with many of its parameters: enable or disable music, sound effects, use DirectX for faster animation, stretch the image, set the order in which the images will be displayed and time intervals over which they'll change. There is an option to let you display the clock as the screensaver runs and you can choose the desktop position for it. Any picture from the screensaver can be previewed in the thumbnail mode and set as the desktop wallpaper. Autumn is a remarkable chance for us to display creativity, inner beauty and loving nature. Autumn Life screensaver is a good way to get inspired to do all this!
Features
The screensaver is fully configurable
Enable or disable music
On/off sound
DirectX compatible
Enable and disable clock
Other options
Compatible with any screen resolution
System Requirements
Celeron 300Mhz or higher
16 Mb Video Memory
10 Mb of free hdd space
Windows 95/XP/Vista/7/8/10
Testimonials
В заставке вы будете наблюдать несколько картин, демонстрирующих все признаки осени.
Click to enlarge screenshot
Autumn Life Video (Click video to play)
File size: 3.79 Mb
Top Screensavers
More free Screensavers
Recommended Screensavers
Screensavers Categories. Browse and Download Free Screensavers