Rating:
4.5

based on

46

votes
Rate it:
Mysterious Forest Screensaver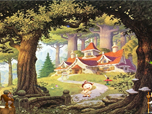 Add a bit of magic to your screen! Feel the spirit of the natural freedom and ceaseless joy! Get into the heart of the Mysterious forest where you can meet happy animals and fairy creatures!


Features
Natural forest scenery
Extremely realistic Animation
Happy animals and fairy creatures
Flexible screensaver settings
Relaxing Music/ability to put your favourite music
Unleash your imagination!
Delight in Mysterious Forest!
System Requirements
Celeron 300Mhz or higher
16 Mb Video Memory
10 Mb of free hdd space
Windows 95/XP/Vista/7/8/10
Mysterious Forest
Screenshots
Click to enlarge screenshot
Mysterious Forest Video (Click video to play)
File size: 3.2 Mb
Top Screensavers
More free Screensavers
Recommended Screensavers
Screensavers Categories. Browse and Download Free Screensavers