Rating:
4.5

based on

57

votes
Rate it:
Suburban Paradise Screensaver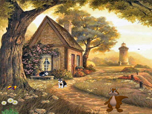 Tired with urban rythms? Bored with sounds of megapolis? It's time to relax in Suburban Paradise! Life-giving lake, ancient trees and cozy cottages are waiting to fill your heart with calm and peace! Funny animals, birds and fairy butterflies want to share the joy of existence with you.
Features
Various scenery
Extremely realistic Animation
Funny animals
Flexible screensaver settings
Relaxing Music/ability to put your favourite music
Brighten up your desktop
Delight in suburban paradise!
System Requirements
Celeron 300Mhz or higher
16 Mb Video Memory
10 Mb of free hdd space
Windows 95/98/ME/2000/XP/Vista/7/8/10
Suburban Paradise
Screenshots
Click to enlarge screenshot
Suburban Paradise Video (Click video to play)
File size: 2.45 Mb
Top Screensavers
More free Screensavers
Recommended Screensavers
Screensavers Categories. Browse and Download Free Screensavers