Rating:
4.3

based on

36

votes
Rate it:
Spring River Screensaver
This is very nice and attractive screensaver. The animated water and white snow look so real. The weather is sunshining. Snowflakes are falling in the water. Download and enjoy absolutely free Screensaver!
Journalists wrote article about Spring River Screensaver...
Climatologists around the world may have a point stating that global warming is not a myth any more. Winters are getting shorter and milder, the crisp of snow under your feet is becoming a rare occasion and the feeling of relief and joy upon sensing the first blow of spring air after a cold, snowy winter is something we start dreaming about in November. If you feel like seeing the awakening of nature right now on your screen, take a look at Spring River Screensaver!
Nothing is as placating and relaxing as watching the dance of fire and the flow of water. Spring River Screensaver is a window to a place where a meandering river plows through a sleepy snow-clad forest. The spring has already claimed its right for regency and is slowly changing the habitual winter landscape. The melting ice shield has revealed the sparkling waters of the river full of trout and beautiful graylings. The trees leaning above the yet cold waters are ready to lose their winter attire and face the first beams of the long-awaited spring sunshine. The only things that remind you that winter has not yet yielded to the will of the coming warmth are the fluffy snowflakes slowly twirling right in front of you, behind the glass of your monitor…
Words cannot describe the joy of seeing it with your own eyes. Download Spring River Screensaver and give yourself some rest looking at this great place!
Features
River screensaver
Animated nature effects
Compatible with any Windows operating system
Works on any screen resolution
Absolutely free screensaver!
System Requirements
Pentium III 800Mhz or higher
256 Mb Video Memory
30 Mb of free hdd space
Windows 95/XP/Vista/7/8/10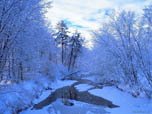 Click to enlarge screenshot
Spring River Video (Click video to play)
File size: 1.02 Mb
Top Screensavers
More free Screensavers
Recommended Screensavers
Screensavers Categories. Browse and Download Free Screensavers